Example 4. 2D RC Portal Frame
This is a great example!
To all the demonstrations that Example 3 has done, Example 4 adds the use of previously-defined Tcl procedures (procs) or scripts.
This example also introduces new kinds of static and dynamic analyses.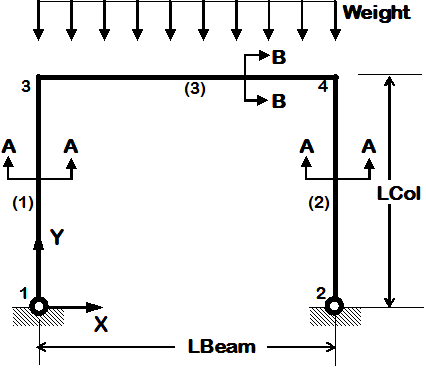 Procedures define a series of commands on specified arguments. They have a series of input variables and are executed like new commands. Tcl scripts do not take arguments. Both consist of generalized series of commands that are used more than once within a single input file, or are transferrable to other input files. The following library files include tasks that are achieved by Tcl procs or script segments and are used in this example:
Model Building

define units and constants

Static Lateral-Load Analysis

define displacement increments for reversed cyclic displacement paths

define static-analysis parameters for lateral-load analysis

Dynamic Lateral-Load Analysis

define dynamic-analysis parameters for lateral-load analysis

define a procedure which parses a ground motion record from the PEER strong motion database by finding dt in the record header, then echoing data values to the output file.
The following types of analyses are included in this example:
Static Analysis

static pushover analysis

lateral loads are applied to the structure until a maximum specified displacement is reached

static reversed cyclic analysis

lateral loads are applied (and reversed) to the structure to achieve a specified series of reversed displacement cycles of increasing magnitude

Dynamic Analysis

dynamic sine-wave input analysis

(uniform excitation)

a ground acceleration in sine-wave form is applied uniformly to all supports

dynamic earthquake-input analysis

(uniform excitation)

a ground acceleration in recorded-earthquake form is applied uniformly to all supports

dynamic sine-wave input analysis

(multiple-support excitation)

a ground displacement in sine-wave form is applied the supports. different inputs can be specified for different nodes

dynamic earthquake-input analysis

(multiple-support excitation)

a ground displacement in recorded-earthquake form is applied the supports. different inputs can be specified for different nodes